How would you like to spend two days working with Novak Djokovic's analytics guru this March in Indian Wells, CA during the BNP Paribas Open?
Analytics has completely transformed how other sports are played and it has *finally* made its way to tennis...
And if you're a 3.5 or 4.0 player, now YOU have the opportunity to get a head-to-to analysis of your game so you can literally become one of the best players in your league or at your club overnight.
I know that might sound too good to be true, but it's not. Keep reading and I'll prove it.
(And I'll share several new-age statistics, like "Winners+", "Errors+", and the "magic number" in tennis that will help you win more matches.)
Djokovic's analytics guru is a guy named Craig O'Shannessy. Here they are together in the locker room right after Djokovic won the 2018 US Open: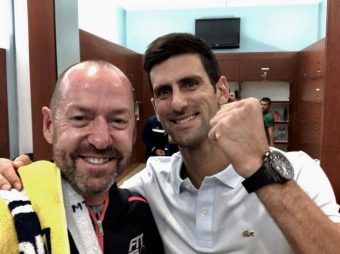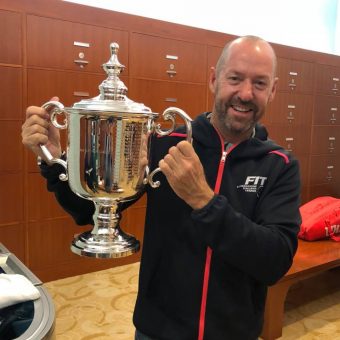 The analytics revolution began in the early 2000s with baseball and a guy named Billy Beane. You may have heard of him because Brad Pitt played him in a movie called "Moneyball" about the transformative impact analytics had on how baseball is played...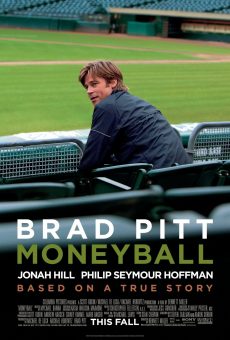 But if not, in the early 2000s Billy was the general manager of the Oakland Athletics, and at the time, the conventional wisdom was that hits and home runs were really the only statistics that mattered when it came to winning baseball games.
With a little number crunching, Billy realized there were all sorts of "hidden" statistics that had a HUGE impact on the outcome.
On-base percentage (OBS), slugging percentage (SLG), wins over replacement (WAR), and many more.
Using these "hidden" statistics, he assembled a team made up of players that conventional wisdom would tell you weren't all that good...
And he did it on the cheap - the Athletics had one of the lowest payrolls in the league, just 24th out of 30 teams...
But they vastly outperformed expectations, and had the 5th best record in Major League Baseball in the 2006 season!
Today, virtually all professional sports are driven by analytics. Teams in the MLB, NBA, and NFL have entire analytics departments nowadays...
And the analytics revolution has finally made its way to tennis. Well, sorta...
Because only a few players have caught on, like Novak Djokovic. In late 2017, he hired Craig O'Shannessy as his analytics guru...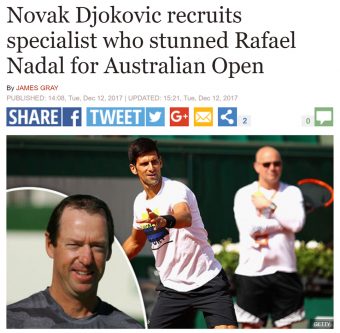 And since then, Djokovic has won 4 of the last 8 Grand Slams he's played with Craig crunching the numbers to help him make better strategic decisions on court.
With Craig's help, now YOU can take advantage of the analytics revolution to drastically improve - overnight!
Here's how the event will go down. We're actually doing two of them so you can choose which dates are best for you.
Option #1: March 13-14 (Fri/Sat)
Option #2: March 15-16 (Sun/Mon)
The morning of Day 1 is RECORDED match play. The footage will immediately be beamed over the Internet to Craig's analytics team...
They'll load it into a specialized software and go through your match point-by-point to generate Craig's proprietary "Match Intelligence Report" (MIR)...
This is the EXACT same proprietary report Craig generates for Djokovic after each match...
And remember how baseball used to only care about conventional statistics like hits and home runs?
When it comes to tennis, Craig has taken two conventional statistics, winners and errors, a step further in his MIR by adding positioning data to create "Winners+" and "Errors+"...
Winners+ tells you WHERE you are standing on the court when you hit a winner...
And Errors+ tells you WHERE you are standing on the court when you make an error...
Craig told me these two stats alone shocked Novak, and completely transformed how he constructed points...
So imagine what will happen in YOUR game with just these two stats?...
When you know WHERE on the court your winners and errors are coming from, you'll know exactly how to construct a point so you increase your chance of hitting winners, while simultaneously reducing your chance of making mistakes...
And that's not including all the other new-age stats you'll get in your 10+ page "Match Intelligence Report".
OK...
So Craig's analytics team will turn around your MIR in a matter of hours, which brings us to the afternoon of Day 1...
The "classroom" session where Craig walks you through your MIR to show you all the hidden areas of opportunity in your game.
I'm putting "classroom" in quotes, because it's actually a suite at the BNP Paribas Open like this: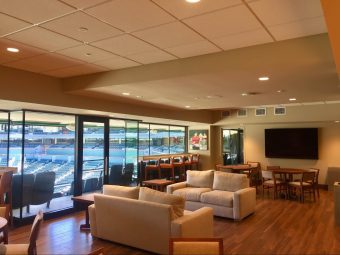 Craig and I figured, hey, why not do this in style, so we got a suite at the BNP Paribas Open.
Inside, Craig will have his computer hooked up to the TV screen so he can go over your MIR with you...
And outside, you can watch Federer, Nadal, Djokovic, and Serena!
(... and Craig can show you the analytics reports he's done on all of them. This is "top secret" stuff that will never make it on the Internet, but he can show you in person.)
We've got the suite all day and night, so you can watch tennis until the last match if you want, but don't stay out too late because we've got an action-packed Day 2.
Quick question:
Do you lose to players you know you should beat, and after the match you say to yourself:
"Man, if I had just played like I did in practice, I would have killed them. The match would not have been close!"
Sound familiar?
Well, as Craig dug deeper into the numbers, he figured out why that happens. It turns out most players are doomed to never playing as well in a match as they do in practice...
But not for the reason you might think...
Because Craig discovered that what we work on in practice and what happens in a match are typically two very different things...
Meaning many of the skills you develop in practice...
DO. NOT. MATTER.
They won't help you win a match.
For example:
In practice, what do we do?
We practice long rallies!
Consistency!
But Craig discovered that 70% of points on the pro tour are between 0-4 shots. In other words, each player is only hitting TWO shots in 70% of the points.
That's the exact opposite of a long rally.
Now, you might be thinking: "OK, well that's the pro tour. Point are much longer at my level."
Nope.
Craig looked at the rally length at every level of the game, down to the 12-and-unders.
Even in the 12s, where the serves are the slowest...
55% of the points were just 0-4 shots!
Most of YOUR points are between 0-4 shots.
And yet, in practice, what do you do?
You practice long rallies!
Consistency!
In effect, you're spending all that time, money, and effort to develop the skills necessary to be a great practice partner...
But developing the skills necessary to be a winning tennis player? Eh, not so much.
Explains why so many players are left scratching their heads when they lose to a Pusher after a great week of practice.
But now that you have your MIR, you can organize practice in a way where your hard work actually pays off in a match!...
Even Djokovic made HUGE changes to how he practiced after Craig showed him his first MIR...
Here's Craig showing Djokovic some MIR results on his phone during a practice session: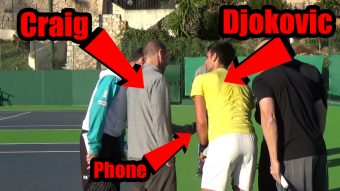 So...
The morning of Day 2 is on court. Armed with your MIR, Craig will show you the exercises and drills you personally need to do to become a better TENNIS player, instead of a better practice partner.
These exercises and drills will also be compiled into a custom step-by-step plan you can take home with you so you NEVER waste another minute on court practicing skills that don't matter.
Alright...
It's now the afternoon of Day 2 and we're back in the "classroom," aka the suite at the BNP Paribas Open!
Yes, you can watch your favorite players.
But more importantly, this is where everything comes together for you, because Craig is going to give you a CUSTOM strategic plan based on your MIR...
Again, this is the EXACT same thing Djokovic gets. Craig tells Djokovic exactly how to play (it's worked pretty well for him lol)...
And now he's going to tell YOU exactly how to play.
So...
If you're wondering just how powerful these two days will be, let me tell you about the "magic number" in tennis...
One of the discoveries Craig made was that you just need to win 55% of the points played in a match to win easily.
We're talking a comfortable 6-3, 6-3 win.
In fact, the #1 player in the world is winning exactly 55% of the points they play. Doesn't matter is we're talking about Federer, Nadal, Djokovic or Serena.
55% is the "magic number" of points you need to win to be the best. Whether that means on the pro tour OR at your level.
3.5, 4.0, whatever.
So think of someone you're dead even with right now. It's a 50-50 match. You just need a tiny 5% lift to go from a coin flip to a comfortable 6-3, 6-3 routine win.
There is NO QUESTION in my mind that you'll get this tiny 5% lift after 2 days with Craig. There are just so many areas of opportunity at the club level - if you know where to look...
And things get even more exciting after a few weeks of following the step-by-step custom practice plan Craig creates for you. You could easily become one of the best players in your league or at your club.
Easily.
For example:
You know who Matteo Berrettini is?
Don't worry if you don't. He's not a household name (yet). But he did come out of nowhere and make it to the semifinals of the 2019 US Open, where he lost to eventual champion Rafael Nadal.
The reason he came out of nowhere?
Craig.
To take that next step, Berrettini knew it wasn't about adding a few more MPH to his serve, or more topspin on his forehand.
It wasn't about playing harder. It was about playing smarter. So he hired Craig to do his analytics and the results speak for themselves.
That's the bottom line:
Understanding your analytics with Craig's proprietary "Match Intelligence Report" and using it to guide your strategy during a match is your ticket to literally overnight wins.
And your custom practice plan allows you to get unstuck and consistently improve. No more wasted time, money, and effort.
It's a huge opportunity, particularly now because the cat's not really out of the bag yet. Your opponents aren't doing this.
So imagine:
In two days in Indian Wells, CA during the BNP Paribas Open, you could go from losing to players you probably should beat, and being stuck at the 3.5 or 4.0 level despite a lot of hard work...
To literally overnight wins and consistent, long-term progress.
Two last things I need to mention:
First, we're going to cover BOTH your singles and doubles game - you'll get analytics on both...
And second, you're going to have a TON OF FUN! 🙂
The price for the event is $5,000. We're keeping the event small so you get super-personal attention from Craig.
(FYI, hotel and transportation not included.)
If you're interested, follow this link and fill out a quick contact form:
CLICK HERE to transform your game with the analytics revolution.
Once you do that we'll reach out and answer any questions you might have and, if it's a good fit, get you set up for what's going to be an amazing two days!
-Will
P.S. If you're wondering if you're "good enough" as a 3.5 or 4.0 to get a lot out of this event, the answer is yes. It's designed specifically for YOU.
But I get you probably have questions. So just fill out the application and we can chat about them on the phone.