Introducing "The 100 MPH Club"

TAP TO WATCH!
Introducing "The 100 MPH Club"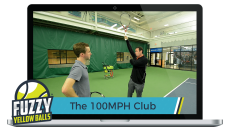 If you ever see your opponent standing inside the baseline to return your serve, and you can tell they don't respect it and are waiting to tee off, then I want to invite you to pick up a copy of "The 100 MPH Club," because inside there are 31 drills that will add significant power to what is absolutely the most important shot in tennis.
What makes these drills special is they were developed by Dr. Mark Kovacs, arguably the world's leading expert on serve biomechanics.  Each drill targets a specific part of your body, allowing you to get maximum power out of the parts of your body you're currently underutilizing.
If you want to hit triple digits on the radar gun, then "The 100 MPH Club" is your ticket.  Pick up your copy by scrolling down this page and clicking the checkout button.
Price: $47 | Availability: In Stock
Reach the top of your league or club ladder

Joel HerskowitzI'm nearly 70 years old and live in Natick, Massachusetts, just outside of Boston. I enrolled in the 100MPH course because I'm interested primarily in singles, and I knew I had to improve my serve in order to be competitive. People tell me my serve is a lot faster now, but that's not what was important to me—it's about consistency and confidence.
Steve CopperI live here in Littleton, Colorado, and I joined the 100MPH Club. Before ordering the course, my serve would have been in the low 80s, 82, high 70s—something like that. After taking the course, the highest speed I got was 98.

ChristineWhen I joined the 100MPH Club, the first thing I learned was a new arm motion that brings the kinetic chain into play. That alone increased my serve speed by 10 miles an hour from 45 to 55, and it has the added benefit of taking stress off my rotator cuff.
Bonus #1: The Kinetic Forehand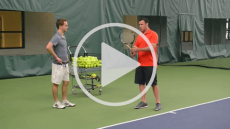 The Kinetic Forehand
This program is like "The 100MPH Club," except for your forehand. Inside Dr. Mark Kovacs is going to show you the science-backed drills he developed to give you more oomph.

After your serve, your forehand is the most important shot. With "The Kinetic Forehand," soon you'll have a potent 1-2 punch combination of a powerful serve followed by a powerful forehand. It's the #1 winning play on the pro tour and in your USTA league.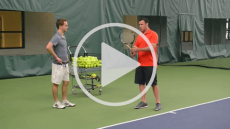 The Kinetic Forehand
But don't just take it from me...
Brian McMannisBefore taking the 100MPH course, my serves were about 60 miles an hour. Since taking the course, they're going up to about 75 but increasing just about daily, and I have become much, much more consistent, and I can actually, you know, hit targets now and aim the serve to someone's back end. And I've also cut down on my double faulting at least 75%. It's been an amazing… made an amazing difference in the way I serve and the way I play.

Perry LongAfter viewing the 100MPH serve course instructional videos and just a few weeks of practicing what I had learned, my serve speed increased from 80 to 102 miles per hour. Before taking the course, my biggest serve challenge was getting the ball to drop down into the service box when I tried to serve hard…
Now the ball explodes off my racket and consistently spins down into the service box with room to spare.

HeitorI'm from Brazil, and I'm here to say how happy I am with 100MPH Club. Before the course, my serve speed was, at maximum, 85 miles per hour. After the course, I am serving around an incredible 105 miles per hour.
Bonus #2: The Kinetic Backhand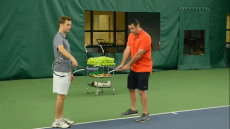 The Kinetic Backhand
Do your opponents pick on your backhand because you've got nothing on it?  Does your backhand land short, letting your opponent step in and take control of the point?
Well, inside "The Kinetic Backhand," Dr. Mark Kovacs shows you his top drills for adding power to both a 1-handed and 2-handed backhand.
Combined with "The 100 MPH Club" and "The Kinetic Forehand," you now have the ultimate power trilogy for your serve, forehand, and backhand.  So go easy on your opponents ;-)
Here's what you're getting when you take advantage of this INSANE deal today...
The 100 MPH Club
Valued at $199
The Kinetic Forehand
Valued at $199
...but yours FREE today!
The Kinetic Backhand
Valued at $199
...but yours FREE today!
That's a total value of:
$597!
But you can get it ALL today for just $47
The 100 MPH Club & All Bonuses | Price: $47 | Availability: In Stock
And for a limited time, shipping is FREE anywhere in the world!

You Don't Risk A Single Penny...
This program comes with a 1-year money back guarantee!