TAP TO WATCH!
Introducing "Rule The Net"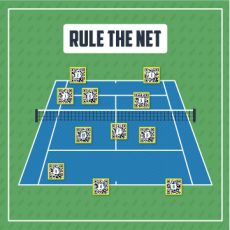 If you feel like you watch too many "poachable balls" whiz by you, and you're like, ugh, I should have poached on that one...
Then Martina Navratilova and the Bryan Brothers would like to invite you to pick up a copy of "Rule The Net," because inside there are 26 of their favorite plays that show you how to set up easy put-away volleys and overheads.
If you own "The Doubles Playbook," then you're going to love "Rule The Net," because these 26 plays are brand new (filmed in March 2022).
Sold separately, our entire library would cost $3,065. But you can get access to everything for $0 because your first month is free. After that, it's just $9.99 per month. No commitment. Cancel anytime.
You Don't Risk A Single Penny...
This program comes with a 1-year money back guarantee!