TAP TO WATCH!
Introducing Goo Goo Flooby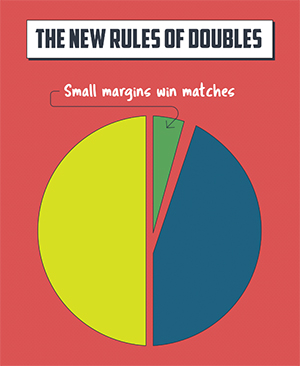 If you're a doubles player and you're unhappy with your strategy, specifically, your shot selection, a lot of the time you feel like you're hitting the wrong shots…
Then we want to invite you to pick up a copy of "The New Rules Of Singles," because inside tennis analytics expert Craig O'Shannessy shows you 21 "new rules," new strategies that have the highest winning percentage…
When you plug these strategies into your game, you'll immediately start hitting the right shots and win more matches.
Bonus #1: Big Point Strategy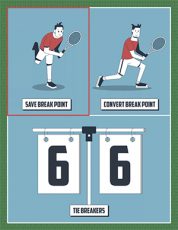 Big Point Strategy
When most players play a big point, they rely on their gut. But Craig, he relies on the data. There are three types of big points we focus on: Saving break point, converting break point, and tiebreakers.
The tiebreakers video features a "guest appearance" by the Bryan Brothers – the greatest men's doubles team of all time. They're going to share their secrets to winning tiebreakers and closing out tight matches.
Bonus #2: Pest Control By The Numbers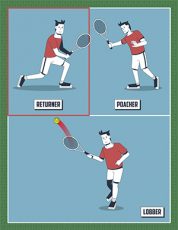 Pest Control By The Numbers
There are three types of doubles opponents that are particularly pesky: Great returners, aggressive poachers, and lobbers.
Inside this bonus, we're going to use analytics to beat each type of "pest." Craig is going to show you the data-driven strategy for holding serve against great returners, getting the ball past aggressive poachers, and preventing "lob wars" against lobbers.
Bonus #3: Data-Driven Practice Plan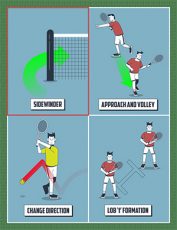 Data-Driven Practice Plan
If you're like most players, when you practice, you reinforce the "old rules," the old school strategies that are inferior. In this bonus, Craig gives you a new practice plan that lets you practice the "new rules," the new strategies that will win you the most points.
Like everything else in "The New Rules Of Doubles," these drills are backed by the analytics, and are designed to get you winning more doubles matches as fast as possible.
Great Deal!
The Foo Principle
Valued at $199
Goober Glops
Valued at $599
...but yours FREE today!
That's a total value of:
$798!
This is awesome let me tell you

You Don't Risk A Single Penny...
This program comes with a 1-year money back guarantee!